| | |
| --- | --- |
| Company | WWF/WWE |
| Event | Fully Loaded 1998 |
| Series | Fully Loaded |
| Edition | 1 |
| Format | Pay-Per-View |
| Date | Sunday July 26 1998 |
| Venue | Selland Arena |
| Location | Fresno, California, USA |
| Attendance | 9,855 |
WWF Fully Loaded 1998
WWF Fully Loaded 1998 continued the flagging In Your House series with a controversial yet memorable card. Actually, if I'm being honest, most of the show was fairly uneventful; however, one segment in particular – and one specific visual from said angle – ended up creating an unforgettable Attitude Era image that is remembered by fans to this day.
WHAT HAPPENED AT THE PREVIOUS TV SHOWS? READ OUR PRE-PPV REVIEW OF RAW!
Val Venis vs. Jeff Jarrett
Kicking things off on this PPV (which incidentally was the last PPV to start at 7pm Eastern US time, aside from the future four-hour WrestleManias, for a long time), we had Val Venis and Jeff Jarrett squaring off, though I don't believe there was a particular burning issue behind this one, at least not between Venis and Jarrett. Val did, however, have a problem with Yamaguchi-San, Kaientai's manager who joined Jim Ross and Jerry Lawler on commentary, due to Venis sleeping with his wife. Meanwhile, Double J's associates Southern Justice (Mark Canterbury and Dennis Knight, who had previously been The Godwinns with their gimmick change being unexplained) were sent backstage to avoid interfering, even though Tennessee Lee was allowed to remain at ringside in Jarrett's corner. My head is spinning now, so let's get straight to the point, as Val benefitted from the reduced ringside personnel by pinning Jeff to score a credible win. Venis' issues with Yamaguchi-San were about to take a notorious turn for the worst in subsequent days, while Jarrett would soon have a character adjustment of his own in the weeks that followed.
WHAT HAPPENED AT THE FIRST PPV OF THE YEAR? READ OUR WWF ROYAL RUMBLE 1998 REVIEW!
X-Pac vs. D'Lo Brown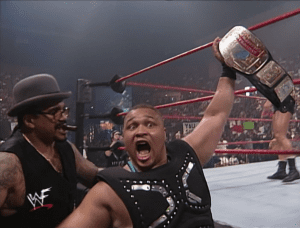 Although D'Lo had just won the European Title from X-Pac's DX comrade Triple H, that belt was not on the line for this contest. At the time, DX and The Nation Of Domination were in a major rivalry, and this one-on-one series would actually last beyond the gang war, with Pac and D'Lo trading the European crown several times in the autumn. Part of the reason that they were paired to face one another so often was because they had some damn good matches, and this was no exception as the two junior heavyweights put on one of the night's best bouts. With Chyna and The Godfather at ringside, it was inevitable that there would be hijinks, and amidst the chaos, Brown pinned Pac with the Sky High to round off what was the biggest week he had ever enjoyed up to that point.
WHAT HAPPENED AT THE PREVIOUS PPV? READ OUR WWF KING OF THE RING 1998 REVIEW!
Faarooq & Scorpio vs. Bradshaw & Terry Funk
This was a weird one. The match had no reason to exist, while the team of Bradshaw and Funk was clearly thrown together. More notably, Funk revealed in a pre-match promo that he was going to take six months off from the WWF (it ended up being nearly eight years), which was clearly news to Bradshaw judging by his reaction (incidentally, Bradshaw would become an Acolyte, one half of a hire-for-money protection agency, a cowboy, a super-arrogant millionaire and a WWE Champion in the time that Terry would be away). This was more intriguing than the match itself, which might have struggled to make it onto Shotgun, never mind Raw or a PPV event. Scorpio surprisingly pinned Funk for the win, and afterwards Bradshaw destroyed everyone, seemingly turning heel. This included Faarooq, with whom he would start to finally establish a legacy in the company after two disappointing initial years.
WHAT HAPPENED AT THE VERY FIRST WWF PPV? READ OUR WWF THE WRESTLING CLASSIC 1985 REVIEW!
Vader vs. Mark Henry
Next up, we had a battle of the big men, with the fading Vader (who would be out of the company by the end of the autumn) taking on Mark Henry, whose theme music here was a sweet remix of the Nation song sans lyrics. Honestly, the way in which this played out was no different to Henry's future bouts with Big Show, Ryback and other competitors who were either large in height, weight or both. Vader gave Henry as good as he had, but The World's Strongest Man survived for long enough to finish off the Mastadon with the World's Strongest Slam. This was a significant win for Mark, but the fans weren't fully invested in his push at this stage, and it would be a very long time before they truly accepted Henry as an upper-card heel.
Before the next match, we had a promo from Paul Bearer, Mankind and Kane to promote the main event, though the show-long tale was that The Undertaker had not yet arrived at the arena, hinting at tension between Taker and Steve Austin, given that the two were already confirmed to clash at SummerSlam. Kane and Mankind were interrupted by The New Age Outlaws, who demanded a rematch for their recently-lost WWF World Tag Team Titles at some point, and this degenerated (no pun intended) into a four-man brawl. Billy Gunn and Road Dogg would get their title shot the next night, but not against Kane and Mankind, as you'll soon discover.
LOD 2000 vs. The Disciples Of Apocalypse
This stemmed from a DOA heel turn, which included the unexpected return of Paul Ellering, Hawk and Animal's old manager, who sided with 8-Ball and Skull. Give the WWF credit for continuously trying to elevate younger performers on this card, though it's hard to say that the DOA had even a miniscule chance of replicating the success that The Road Warriors had (and, of course, they didn't). At least we got a hoss tag bout here, which served the purpose of filling time. In the end, after the DOA pulled what would later be known as Twin Magic, the heels scored the win over Animal (don't ask me which member was which, how the hell should I know?). The Legion Of Doom were on the slide, and things were about to get a lot worse as the regrettable storyline of Hawk becoming an alcoholic was about to begin.
We then had another promo, this time with Vince McMahon and his trusty stooges, Gerald Brisco and Pat Patterson. Vince's point was to emphasise that The Undertaker still hadn't arrived at the arena (you think he'd know after nearly eight years when it was time to turn up), and he was starting to consider some very low-key replacements who could team up with Stone Cold if need be. More on this later.
WHAT HAPPENED AT THE LAST EDITION? READ OUR WWF FULLY LOADED 2000 REVIEW!
Dungeon Match – Dan Severn Is Special Guest Referee
Owen Hart vs. Ken Shamrock
We then had a rather unique battle, as Owen Hart and Ken Shamrock clashed in the basement of Owen's own house. That would be the Dungeon, the famous training room of sorts within the vaunted Hart family home. That the WWF were given permission to present this bout just eight months after Bret Hart was double-crossed in Montreal at Survivor Series 1997 remains bizarre to me. Anyway, these two put on a hard-hitting fight, and the physical nature (not to mention the location, of course) of this clash made it stand out from anything else on the card. Dan Severn, a former UFC fighter, was the official here, and when Shamrock accidentally kicked Severn to the ground, Owen capitalised by whacking Shamrock in the back of the head with a dumbbell. Severn then awarded the win to Owen after the Black Hart trapped the now-unconscious Ken in an armbar, though the announcers hinted that there was an alliance between Owen and Severn. Shamrock would exact revenge in a Lion's Den scrap at SummerSlam.
WHAT HAPPENED AT THE FOLLOWING PPV? READ OUR WWF SUMMERSLAM 1998 REVIEW!
WWF Intercontinental Championship Two Out Of Three Falls Match
The Rock (C) vs. Triple H
I mentioned earlier the DX vs. Nation feud, and the two faction leaders battled here for the IC Championship, and under Two Out Of Three Falls rules. The Attitude Era is often tarred with the brush of not providing strong in-ring action, but Rock and HHH were certainly given the opportunity to deliver that here by being awarded 30 minutes for their showdown. After interference from various DX and NOD extras, Rock scored the first fall after hitting a Rock Bottom. HHH, of course, rebounded by claiming the second fall after Chyna drilled Rock with a DDT on a steel chair (hey, she was a believable threat to any male members of the roster by this stage). From there, the drama increased as fans wondered who would earn the decisive third and final fall, and it seemed like it would be HHH after he hit Rock with a Pedigree. However, the time limit (which was not really acknowledged beforehand, but which JR had noted several times during the bout) expired before HHH could actually score the three-count, meaning that it ended with a draw. This was a really well-worked contest, but it probably would have been a better match had a few minutes been shaved off, even though that would have necessitated a different finish (after all, how many matches have a 22-minute time limit?). HHH was distraught, but he would finally capture the IC Title from Rock in a memorable Ladder match the following month at SummerSlam.
Bikini Contest – Jerry Lawler Is Master Of Ceremonies
Sable vs. Jacqueline
This feud had developed over the past eight weeks, with Marc Mero having dumped Sable to align himself with new flame Jacqueline, and at one point Sable even lost her job due to her husband. Nevertheless, she made it back and set her sights on Jackie, which led to the WWF's first of many Bikini Contests on PPV. Jerry Lawler had earlier caught an eyeful of Sable's planned attire, and he reacted with typical glee. Jacqueline showed off a rather revealing red bikini, whereas Sable, while sporting a thong down below, presented a modest sleeveless top. At that point, Lawler questioned what she was thinking, and Sable noted that this was a "conservative" decision influenced by Vince McMahon. However, she noted that she had a different perception of what "conservative" meant, and since this was live PPV, she said that "there's not a damn thing they can do about this!" With that, she removed the top to reveal not a bra, but two black hand-prints sprayed on her breasts. Jerry Lawler reacted like he'd seen a ghost, while the fans reacted very enthusiastically; for months, Sable had teased them more and more, and now the sexual fantasies had been virtually fulfilled, since the hand-marks were the only thing preventing fans from seeing Sable fully topless. Vince came out to lead Sable away with his suit jacket, but the point had been made, and an unforgettable visual that could only have come from the Attitude Era had been created. As it turned out, Sable would be determined as the loser of the "match" via disqualification, since she technically was not wearing a bikini, so while Jacqueline was upstaged, she won in the end.
WHAT HAPPENED AT THE FOLLOWING EDITION? READ OUR WWF FULLY LOADED 1999 REVIEW!
WWF World Tag Team Championship Match
Kane & Mankind (C) vs. Stone Cold Steve Austin & The Undertaker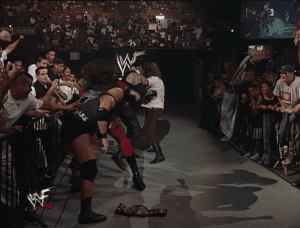 So, Undertaker had (accidentally but possibly on purpose) cost Steve Austin the WWF Title against Kane at King Of The Ring, only for Austin to regain the belt the next night and Stunner Taker along the way. Then, Taker managed to earn himself a WWF Championship opportunity against Stone Cold at SummerSlam while dressed as Kane, furthering the idea of a potential Taker-Kane alliance. In the meantime, Kane and Mankind became WWF World Tag Team Champions, and Vince decided to turn up the growing problems between Austin and Undertaker by giving both men a chance to dethrone Kane and Mankind here at Fully Loaded. Of course, this was dependent on whether or not Taker would show up, but if you know anything about wrestling storylines about someone potentially not appearing, you'll know what the outcome will be. Sure enough, Taker did indeed turn up, and with a cool new remixed theme tune to boot.
The match itself is forgotten amidst the myriad of iconic Attitude Era main event contests, but this is actually a really good headline attraction, and a refreshing change from the violent stipulation matches that were starting to become the norm for the WWF. That's not to say that there weren't any big bumps, though, with Mankind taking a particularly brutal bounce off a ringside announcer's table. Though Undertaker was present, he still had an uneasy alliance with Austin, flipping him off early on (after Stone Cold had shown him a middle finger to be fair, as was his nature), and later refusing to tag in. Austin managed to Stunner both Kane and Mankind, but Taker refused the hot tag. However, he soon relented, and he was a house of fire taking on the defending titleholders, as fans went absolutely bananas. Taker Chokeslammed Kane, then he Chokeslammed Mankind, and then he finally Tombstoned Kane to win the match and the Tag Team Titles for his team. That being said, Undertaker left the arena with both belts, forcing Austin to have to wait until Raw the next night to receive his newly-won prize, thus keeping the tension going ahead of what promised to be a massive SummerSlam showdown.
WHAT HAPPENED AT THE FOLLOWING TV SHOWS? READ OUR POST-PPV REVIEWS OF RAW & HEAT!
If you enjoy the charisma and craziness of the Attitude Era, then WWF Fully Loaded 1998 is a very entertaining show. If you prefer top-quality wrestling, however, then only a couple of matches on this card will meet your expectations. Nevertheless, there's no denying that the WWF product was incredibly hot at this point, and this event gave fans one of the most memorable moments from this boom period, courtesy of Sable and her very unusual choice of bikini top.
WANT TO RELIVE WWF FULLY LOADED 1998? WATCH IT RIGHT NOW ON WWE NETWORK!